Get the Facts Today on Choosing the Right Induction Heat Treating Company with Zion's Free Guide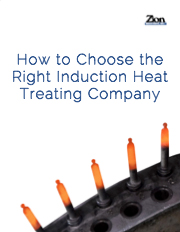 DOWNLOAD NOW
Get the Facts Today on Choosing the Right Induction Heat Treating Company with Zion's Free Guide
Engineers and parts designers focused on metal componentry have long-valued and trusted the efficiency, durability and strength rendered to metal parts via induction heat treating processes such as Hardening, Tempering, and Annealing. Choosing the right induction heat treating company with which to partner is critical in today's ultra-competitive manufacturing environment. Their expertise, facilities and quality of workmanship can make the difference between a mediocre product and one that stands the test of time.
We've created this complimentary guide to help decision makers select the right commercial induction heat treating providers. In this PDF you will:
Learn differences in various induction heat treating processes
Discover how to evaluate companies based on their competitive advantages, turnaround times and locations
Capture insights on providers based on history, staff and certifications
Realize a provider's capacity for the future based on equipment, quality control and diversity of services
Take an objective look at heat treatment criteria and make an informed decision on your next business partnership. Click here to get the free guide from Zion.